Cloud Computing is primarily one of the technological advancements that businesses should look forward to in the future. A huge frontrunner of such innovation is the billion-dollar company Amazon, with its newest offering, Amazon Web Services. It is a platform that optimizes digital-based business operations to ensure productivity, flexibility, and convenience. Still, are these advantages function as a luxury or an actual need?
Well, it is certain that competition between industries has become more cutthroat than ever. More SMEs are entering the market, hoping to create a following and eventually become bigger. At this point, the entry level is merely free game, with large corporations pitting against solopreneurs, for instance. Now that business scale does not matter that much in terms of measuring your rivals' potential, you must adapt to the latest technological innovations to at least meet the demands of today. If possible, you can gain an edge if you have that resilient and revolutionary attitude.
Amazon Web Services has that winning formula of success that can possibly put your business on top of its game. It is an evolving platform that offers a multitude of performance tools that boost your overall performance. Like we said earlier, it operates by utilizing cloud technology, which means you can significantly expand your venture on a global scale. At the moment, Amazon runs in several locations across the world, including the US, Singapore, Japan, Australia, Ireland, and Brazil.
Amazon Web Services at IT Solution
Our team at IT Solution offers a comprehensive suite of Amazon Web Services to enable your business' growth. Some of these are: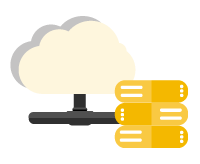 Database, application and analytic services
Mobile, management, and developer tools
AWS' versatility in terms of scalability is undoubtedly worthy of praise. This means any venture (from entrepreneurs to startups to conglomerates) can apply this platform into their business. Here are some of Amazon Web Services' key amenities which made it a reliable tool:
Amazon Data Migration Tools
Amazon's AWS has Data Migration Tools which allows businesses to transport data via cloud technology. This prevents any downtime and privacy issues, as well as data losses. Some of the strategies ingrained within these tools are:
One-time large batches (to handle huge amounts of data)
Constant device streams (to enable real-time operations)
Intermittent updates (in line with keeping up with Amazon's newest offerings)
Hybrid data storage strategy
Amazon Network Connectivity
Establish an efficient network infrastructure with the Amazon Network Connectivity tool. By efficient, we mean that you can lessen bandwidth costs and therefore, save money. This is all due to Amazon's streamlined approach in transferring data.
Amazon Auto Scaling
Flexibility is undeniably one of Amazon's remarkable advantages, and it speaks volumes through its Auto Scaling feature. With this tool, you can increase your Elastic-Cloud-Compute capacity while keeping your app accessibility in top form. It works intelligently as it carefully analyzes your cloud's capabilities and scales it on a desirable level. Not surprisingly, the results are fully accurate, so there is no need to monitor your EC2 manually.
If you need more information regarding Amazon Web Services, do not hesitate to contact us! You can also give us a call if you are experiencing issues while using AWS. We guarantee to provide you with top-grade support as you leverage AWS to elevate your business' potential.